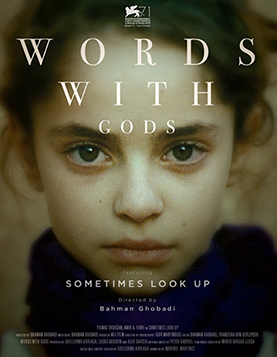 Writer & Director: Bahman Ghobadi
A feature adaptation of Ghobadi's film "Sometimes Look Up", Two Brothers is the story of 45-year-old conjoined twins JAMSHID and JAMAL, who travel for the very first time from rural Iran to Las Vegas in order to have a medical separation. Jamal and Jamshid, abandoned in the woods as babies in rural Iran, were raised by Haji, a spiritual leader. In their small Iranian hometown, the brothers, now booksellers and lovers of poetry, have grown up to have different values and outlooks on life. Jamal is extremely pious and Jamshid is… not. They love each other dearly, but as they are conjoined at the back of their heads, they can never see what the other sees.
On Jamshid"s wedding day, Jamal panics and enlists Haji to call it off. In the midst of a lively argument amongst the guests, Jamshid receives a call from Dr. Mengel, an American surgeon who met them while travelling in Iran. Dr. Mengel, excitedly informs them about a new separation surgery that he can perform in his state-of-the art Sun City facility in Las Vegas. Equally nervous and eager to finally forge a separate life for themselves, the brothers decide to accept this offer.
The long flight from Iran is turbulent and the pilot talks with the brothers about power, god, life and death.
They arrive in the U.S. to heightened border security and complicated immigration procedures, run by…American immigrant immigration officers. Jamal and Jamshid realize their arrival is a big deal when they are greeted with a fanfare of media, journalists, and Iranian fans. The brothers are escorted out of the airport by Dr. Mengel"s ambulance/casino driver, Lisa, who becomes their guide over the next week of events leading up to the operation.
Comedic chaos ensues as the brothers realize that Dr. Mengel is an ambitious entrepreneur, running a "Hospital/Hotel/Casino," with very strange business ideas embedded in compulsive behavior. They meet Medea, a young reporter working as a publicist for Dr. Mengel, who quickly sees that the brothers are in an existential crisis at the expense of Dr. Mengel"s empire-building. A free spirit, albeit lost in the desert, Medea is drawn to the beauty of Persian culture and the philosophical questioning of Jamal and Jamshid as they take turns grappling with their life-changing decision. She is inspired, and subsequently encouraged by the brothers, to privately write a book about their story.
Sin City is everything Jamshid has fantasized about and everything that Jamal has long feared. Jamal worries about the temptation of sex, gambling, and alcohol that surround him, often turning to Haji for advice, via long distance phone calls. Meanwhile, Dr. Mengel has received word from his team that, due to the placement of the main artery in their brains, it is impossible for both brothers to survive. Dr. Mengel"s assistant, Athena, shares this information with Medea.
The brothers explore their new surroundings, visiting the wonders of Death Valley and dancing in the night clubs. Through hilarious exchanges they come to terms with their differences anew. We learn that they share dreams, the effects of alcohol, and in the end they realize they"re both in love with the same woman. Medea has by now discovered that the two brothers together comprise the perfect man, one soul mate. In light of the imminent operation, she must confront her own humanity…and Dr. Mengel.
On the day of the surgery as preparations are being made, the brothers turn to prayer and find themselves in a mystical experience to make peace with what this surgery may bring. A heartful, funny, and beautiful story with a powerful cultural clash never seen before in this way, TWO BROTHERS is driven by the irony, humor, and vitality found at the extremes of life.